Sump Pumps
Providing Excellent Service & Peace of Mind Since 1936

Sump Pump Services in Cherry Hill
At Wolfschmidt Plumbing, Heating & Cooling, we understand the importance of a well-functioning sump pump. Cherry Hill's unpredictable weather and potential for heavy rain can lead to basement flooding, which can cause significant damage to your property. That's where we come in – we offer comprehensive sump pump services to keep your home safe and dry.
Sump Pump Installation
Don't wait until a flood occurs to think about installing a sump pump. Our experienced technicians can assess your home's needs and recommend the right sump pump system for you. We'll handle the installation process efficiently and professionally, ensuring that your basement stays dry, even in the harshest weather.
Sump Pump Repairs
If your existing sump pump is acting up, making unusual noises, or failing to keep your basement dry, don't hesitate to call us. We offer prompt sump pump repair services to get your system back in working order. Our team is well-versed in diagnosing and fixing sump pump issues to protect your home from water damage.
Sump Pump Maintenance
Regular maintenance is the key to keeping your sump pump in excellent condition. Our maintenance services are designed to extend the lifespan of your sump pump and prevent unexpected failures. We recommend annual or semi-annual check-ups to ensure your pump is ready for any challenge.
Why Choose Wolfschmidt Plumbing, Heating & Cooling?
Expertise: With years of experience serving the Cherry Hill area, our team of professionals is highly skilled in sump pump installation, repair, and maintenance.
Reliability: We are committed to delivering dependable services, ensuring your sump pump is always prepared to protect your home.
Quality: We use top-of-the-line sump pump products and the latest technology to provide the best solutions for our customers.
Emergency Service: We're available 24/7 for emergency sump pump repairs because we know that water damage can't wait.
Customer Satisfaction: Your satisfaction is our top priority. We strive to exceed your expectations with every service we provide.
Contact Us Today
Don't wait until it's too late to protect your home from water damage. Choose Wolfschmidt Plumbing, Heating & Cooling for all your sump pump needs in Cherry Hill. Our team is ready to assist you with sump pump installation, repairs, and maintenance.
Reach out to us today to schedule a service, and let us help you keep your basement dry and your property safe.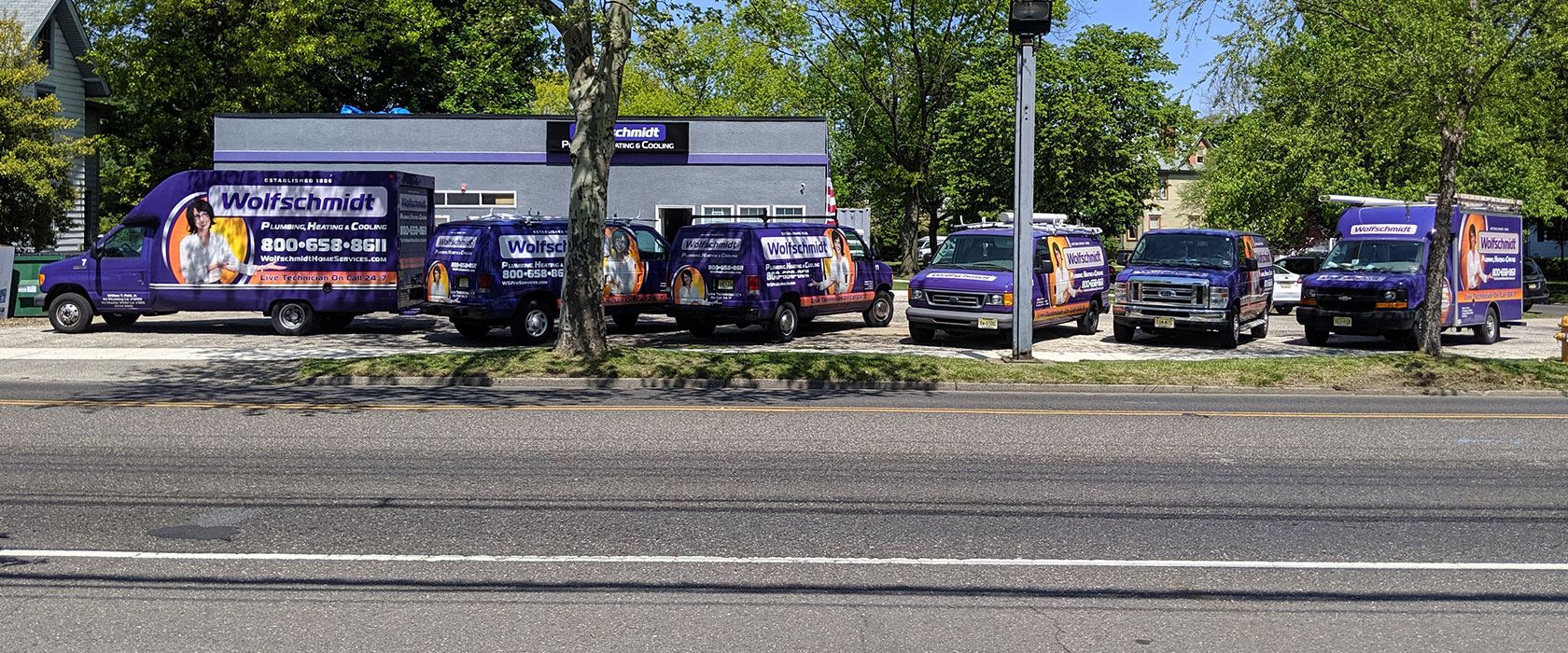 I want to give you some feedback. I couldn't be more satisfied with the service I have received from you. I have had a few calls and repairs over the last 5 years.i have had the same repair person and he is awesome. Friendly and very good at making me understand what he had to do . The office personnel is also friendly and accommodating. . I will always call you. Sincerely David Clark

I had a pleasure meeting technician Ms. Isis who did a wonderful job inside my home in a very detailed and professional manner. Isis was very patient and knowledgeable towards my heating system issues. Isis definitely needs to be one of these great assets towards any company and of course, she deserves a promotion. Thank you! Mr. T. Osis

Dear Sir, 

I recently had a problem with my AC unit and so i called Pheonix. I was somewhat surprised when your company answered. I have been a long time Pheonix customer and knew that Craig was thinking about retiring when I last talked to him and so I was apprehensive about dealing with a new company that i knew nothing about.

After your Tech Lino arrived we talked about my problem and he set my mind at ease and i will continue to use your company. Lino was knowledgeable, polite, and honest. He could have said it is an old unit and you should replace it but instead he just replaced the starter capacitor. He is a great representation for your company!

Sincerely,

Bill Mollenhauer

We are very happy with the service provided by your company. Our experience from when we contacted your company to schedule the appointments through the completion of the service was exceptional. Will definitely be using your company again as well as referring your company to others. Thank you.

I want to thank you for your quick response to my heating issue. Graham is a top-notch technician and very personable. He remembered fixing our heater a few years back. He quickly identified the issue and fixed it in record time. Top-notch service!

I feel lucky to have you in town as a reliable company I can trust. Thanks again

I searched online and found Wolfschmidt available to help me. Within minutes of contacting them, I received a confirmation text AND a tracker of when a plumber would arrive. It really put my mind at ease.

Wolfschmidt Plumbing, Heating & Cooling is a great company to work with. They are very friendly, knowledgeable and take pride in their work. I highly recommend them!

I've used them many times and EVERY time has been a great experience. Expert service at a very good price. Won't call anyone else any more. Highly recommended!!

I told the gentleman about my issue, and he said he would have someone from the office call me to schedule. 30 minutes later I received a call and I was scheduled for that morning at 10:30. This was right in the middle of a heat wave, and I'm sure they were really busy.
$50 OFF

Hydro Jet with a Camera Inspection

Must present this promo code to redeem this special: Jet50 Call Wolfschmidt today for more details!

$25 OFF

Any Service Repair

Now offering $25 off any service repair. Must present promo code to redeem special: Service25. Call Wolfschmidt for details.

$25 OFF

Drain Cleaning or Video Inspection

Now offering $25.00 off for Drain Cleaning or Video Inspection. Must present promo code to redeem special: DRAIN25. Call Wolfschmidt for details.

$30 OFF

Veteran Discount

We proudly offer $30 off labor only to veterans. Must present promo code to redeem special: VET30 Call Wolfschmidt for details.

$699

Hydro Jet with Camera Inspection

Must present this promo code to redeem this special: Jet699 Call Wolfschmidt today for more details!

Free

On-Site Estimates

For Any Service! No dispatch cost unless you want us to do the job. Call today for more details!


Contact Our Team
Doing It Right Since 1936