Magnolia
Providing Excellent Service & Peace of Mind Since 1936

Magnolia HVAC and Plumbing Services
Solving the Hassle of Plumbing, Heating and Cooling Issues Throughout All of South Jersey
A working plumbing or HVAC (Heating, Ventilation, and Air Conditioning) system is paramount for any home. These systems are crucial in providing comfort, maintaining a healthy environment and ensuring the smooth functioning of various daily activities. However, when these systems malfunction, it can lead to inconvenience, discomfort and even potential health hazards. That's why addressing any issues promptly and seeking professional repairs or installations is essential.
At Wolfschmidt Plumbing, Heating & Cooling, we understand the significance of functional plumbing, heating and cooling systems. With our extensive background spanning 85 years, we have gained invaluable insights in delivering reliable and lasting solutions to our customers. Our team of licensed, insured and EPA-trained plumbers and technicians are well-equipped to handle a wide range of plumbing, heating and cooling issues in Magnolia.
What sets us apart is our commitment to customer satisfaction. We aim to deliver results that resolve the problem and leave our customers completely happy. Our dedication to quality workmanship and customer service is what makes us a trusted choice.
Additionally, we are committed to providing timely assistance. We understand that plumbing or HVAC emergencies can occur anytime, day or night. That's why we offer 24/7 emergency services, ensuring that our customers receive the support they need when they need it the most.
Reach out to us at (856) 512-1832 or online to schedule your next Magnolia plumbing, heating or cooling service.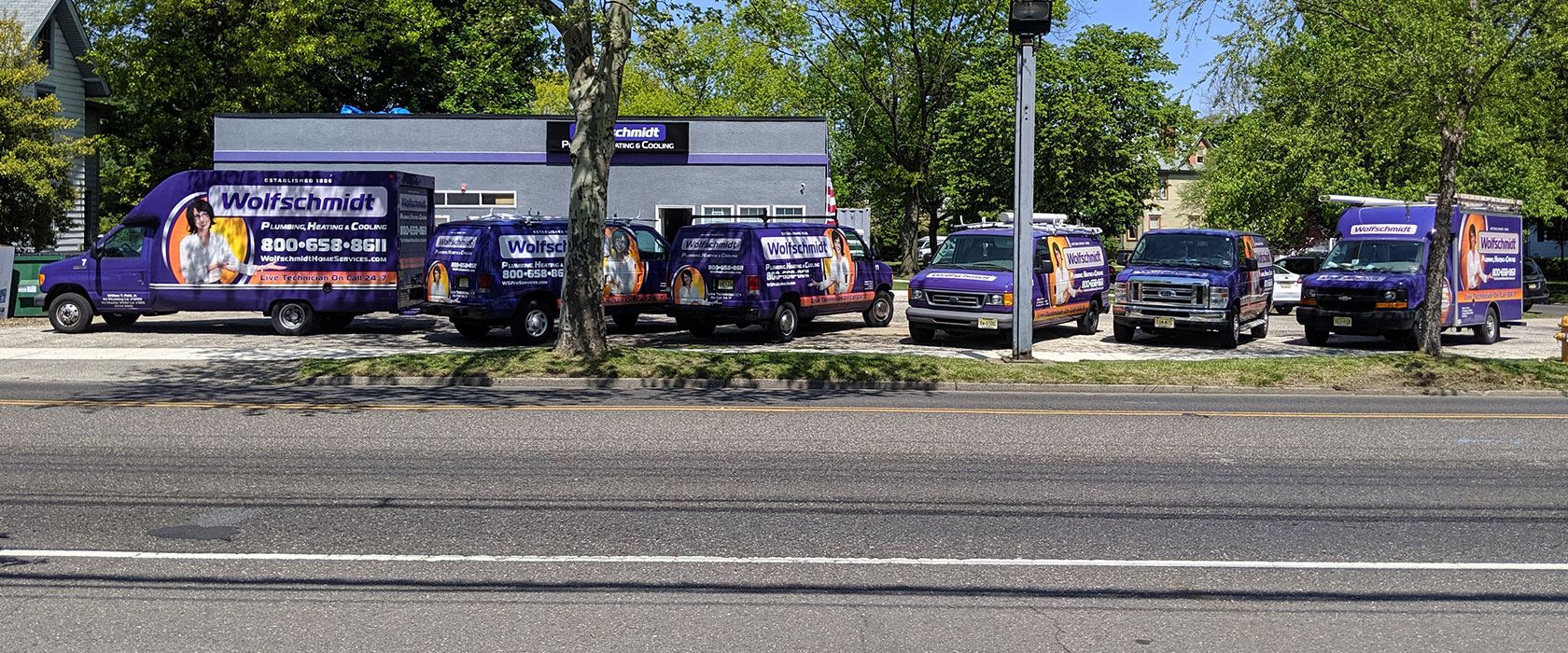 I want to thank you for your quick response to my heating issue. Graham is a top-notch technician and very personable. He remembered fixing our heater a few years back. He quickly identified the issue and fixed it in record time. Top-notch service!

I feel lucky to have you in town as a reliable company I can trust. Thanks again

I searched online and found Wolfschmidt available to help me. Within minutes of contacting them, I received a confirmation text AND a tracker of when a plumber would arrive. It really put my mind at ease.

Wolfschmidt Plumbing, Heating & Cooling is a great company to work with. They are very friendly, knowledgeable and take pride in their work. I highly recommend them!

I've used them many times and EVERY time has been a great experience. Expert service at a very good price. Won't call anyone else any more. Highly recommended!!

I told the gentleman about my issue, and he said he would have someone from the office call me to schedule. 30 minutes later I received a call and I was scheduled for that morning at 10:30. This was right in the middle of a heat wave, and I'm sure they were really busy.

They did an amazing job with the remodel of our bathroom. Jesse and Tim are wonderful, personable and reliable. I would recommend them to anyone!

Wow! We had such a great experience with this company! Dwayne was so friendly, professional and efficient! We will call again!

Been using Wolfschmidt for 10 years now for all of our construction jobs. They are top notch organization. Pat and Tom are amazing plumbers. I wont trust anyone else on my job sites. You will be so happy you called Wolfschmidt for all plumbing needs.

My mother in law had water filling her basement. Called Wolfcshmidt about 7:30 AM and they sent someone out right away. It was a pipe which they fixed, Never used them before but will use exclusively from now on. Highly recommend.
About Our Heating Services
We have a team of highly trained technicians who can address issues with heaters, furnaces and boilers. Our insights, coupled with our use of state-of-the-art technology, enable us to diagnose problems accurately and offer efficient repair or installation services. With a deep understanding of the industry, we can guide customers in selecting the right system for their unique requirements.
$25 OFF

Any Service Repair

Now offering $25 off any service repair. Must present promo code to redeem special: Service25. Call Wolfschmidt for details.

Free

On-Site Estimates

For Any Service! No dispatch cost unless you want us to do the job. Call today for more details!

$25 OFF

Drain Cleaning or Video Inspection

Now offering $25.00 off for Drain Cleaning or Video Inspection. Must present promo code to redeem special: DRAIN25. Call Wolfschmidt for details.

$699

Hydro Jet with Camera Inspection

Must present this promo code to redeem this special: Jet699 Call Wolfschmidt today for more details!

$30 OFF

Veteran Discount

We proudly offer $30 off labor only to veterans. Must present promo code to redeem special: VET30 Call Wolfschmidt for details.

About Our Plumbing Services
At Wolfschmidt Plumbing, Heating & Cooling, we are well-prepared to handle any bathroom or kitchen plumbing issue. Whether a slow-flowing drain or a clogged pipe, our plumbers have the necessary tools and skills to resolve the problem. We employ advanced techniques like camera inspections to identify issues and utilize methods like hydro jetting to clear sewers and drains effectively. Furthermore, we provide installation, maintenance and repair services for water heaters, ensuring hot water availability for your comfort and convenience.
We are a reputable company that can address plumbing, heating and cooling issues professionally. Our team ensures that customers receive reliable and lasting solutions. Whether it's repairing broken AC units, offering heating system services, or resolving plumbing issues in Magnolia, we are dedicated to delivering exceptional customer satisfaction and providing solutions for our customers' needs.
To discover the Wolfschmidt Plumbing, Heating & Cooling difference, please contact us at (856) 512-1832.

Contact Our Team
Doing It Right Since 1936