Merchantville
Providing Excellent Service & Peace of Mind Since 1936

Merchantville HVAC and Plumbing
Trusted HVAC and Plumbing Services in Merchantville
Since 1936, Wolfschmidt Plumbing, Heating & Cooling has proudly served residential and commercial customers in Merchantville and beyond. With a legacy of excellence, we have become the go-to name for HVAC and plumbing services in South Jersey. Our mission is simple: ensure the homes and businesses we serve are comfortable and fully functional when we leave.
When working with Wolfschmidt Plumbing, Heating & Cooling, you can trust us to:
Restore Tranquility to Your Home: From heating and cooling systems to plumbing solutions, we comprehensively understand these essential components. No matter the issue you're facing, whether it's a leaky faucet, a broken furnace, or an AC unit that refuses to cool, we have the expertise to tackle it head-on. We understand that these disruptions go beyond mere inconveniences; they can significantly impact your quality of life. That's why entrusting these matters to professionals like us is crucial.
Provide Reliable Solutions and Skilled Specialists: At Wolfschmidt Plumbing, Heating & Cooling, we take pride in our team of trained specialists. With their in-depth knowledge and experience, they accurately diagnose and rectify problems using the right tools and techniques. You can trust that we will address the symptoms and get to the root cause, ensuring long-term solutions for your home.
Don't let HVAC or plumbing issues disrupt your peace of mind. Schedule a service appointment in Merchantville today by contacting us at (856) 512-1832. We also offer flexible financing options to make your experience even more convenient! Contact us now and experience the Wolfschmidt difference!
Trustworthy HVAC and Plumbing Solutions for Your Home
At Wolfschmidt Plumbing, Heating & Cooling, we take pride in being a trusted name in the HVAC and plumbing industry. Our commitment and dedication to every customer sets us apart as a beacon of excellence. With a wealth of experience and expertise, our team is equipped to face and conquer any challenges that come with HVAC and plumbing. With more than 85 years of experience under our belts, there isn't much we haven't encountered! Trust the team that's seen it all!
You can contact our Merchantville HVAC and plumbing team for many services, including:
Swift Solutions for Plumbing Concerns: Our expert Merchantville plumbers are always ready to address any plumbing concerns swiftly and efficiently. Whether it's repairs or installations, we strive to restore your home's comfort without delay. Trust the expertise of our team to deliver the solutions to meet your needs.
Top-Tier AC Services: When it comes to air conditioning, we offer premium services in Merchantville, NJ. Our technicians are skilled in new installations and repairing existing units. We have you covered, from diagnosing unexplained noises to fixing warm air, lack of airflow, or water leaks.
Critical System Maintenance: Regular maintenance ensures your air conditioner operates at its best throughout the year. Rely on us for comprehensive AC maintenance and tune-ups that keep your system running smoothly. We understand the significance of well-maintained HVAC systems in keeping you comfortable during extreme weather conditions. Our team specializes in preventative care for your heating and cooling units, ensuring they perform at their best when you need them most.
Indoor Air Quality Solutions: Breathe easier with our range of indoor air quality solutions. We can help create a consistently comfortable and refreshing indoor environment, from filters to duct purifiers and stand-alone purifying systems.
Don't let failing home systems cause discomfort and stress. Our professionally trained technicians are here to restore your systems quickly and efficiently. We prioritize customer satisfaction and strive to provide reliable services you can trust.
Contact us today at (856) 512-1832 to experience our exceptional HVAC and plumbing solutions. Learn more about our services and regain your home's comfort!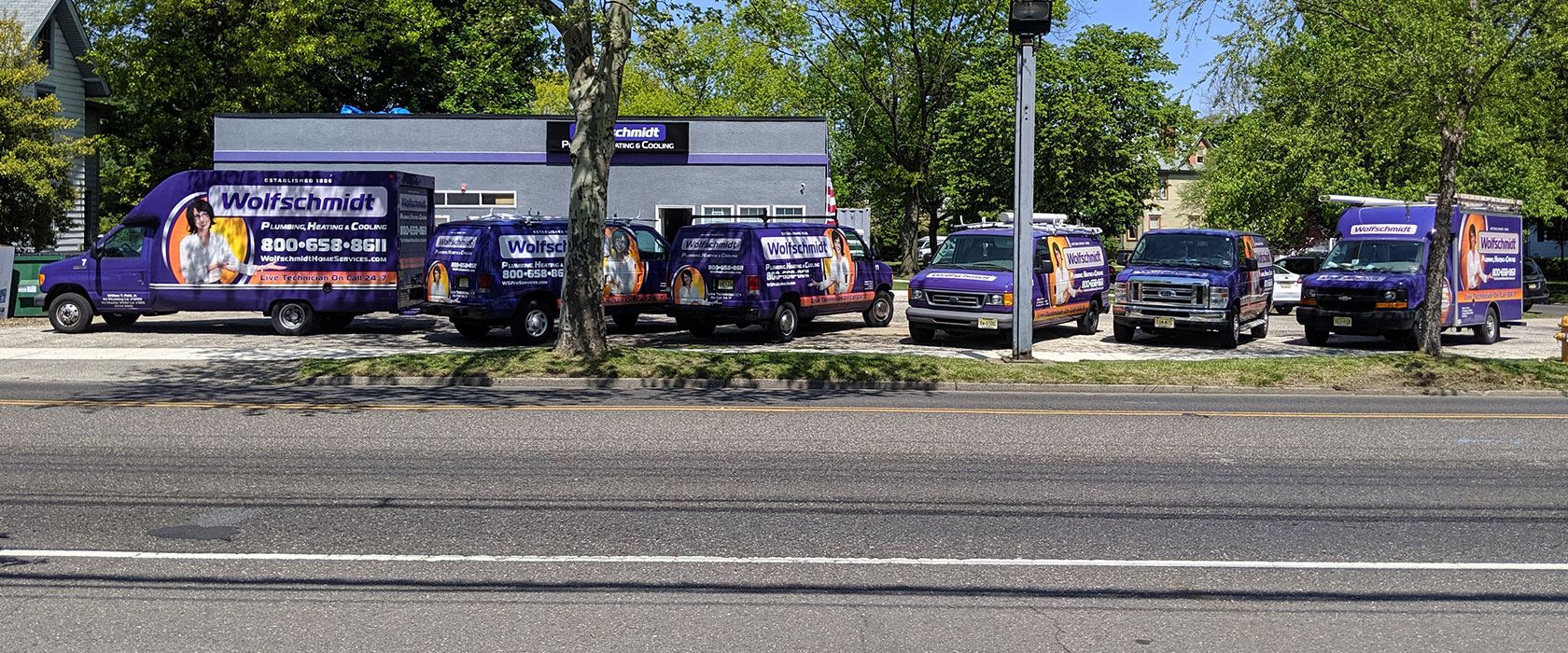 We are very happy with the service provided by your company. Our experience from when we contacted your company to schedule the appointments through the completion of the service was exceptional. Will definitely be using your company again as well as referring your company to others. Thank you.

I want to thank you for your quick response to my heating issue. Graham is a top-notch technician and very personable. He remembered fixing our heater a few years back. He quickly identified the issue and fixed it in record time. Top-notch service!

I feel lucky to have you in town as a reliable company I can trust. Thanks again

I searched online and found Wolfschmidt available to help me. Within minutes of contacting them, I received a confirmation text AND a tracker of when a plumber would arrive. It really put my mind at ease.

Wolfschmidt Plumbing, Heating & Cooling is a great company to work with. They are very friendly, knowledgeable and take pride in their work. I highly recommend them!

I've used them many times and EVERY time has been a great experience. Expert service at a very good price. Won't call anyone else any more. Highly recommended!!

I told the gentleman about my issue, and he said he would have someone from the office call me to schedule. 30 minutes later I received a call and I was scheduled for that morning at 10:30. This was right in the middle of a heat wave, and I'm sure they were really busy.

They did an amazing job with the remodel of our bathroom. Jesse and Tim are wonderful, personable and reliable. I would recommend them to anyone!

Wow! We had such a great experience with this company! Dwayne was so friendly, professional and efficient! We will call again!

Been using Wolfschmidt for 10 years now for all of our construction jobs. They are top notch organization. Pat and Tom are amazing plumbers. I wont trust anyone else on my job sites. You will be so happy you called Wolfschmidt for all plumbing needs.
$25 OFF

Drain Cleaning or Video Inspection

Now offering $25.00 off for Drain Cleaning or Video Inspection. Must present promo code to redeem special: DRAIN25. Call Wolfschmidt for details.

$699

Hydro Jet with Camera Inspection

Must present this promo code to redeem this special: Jet699 Call Wolfschmidt today for more details!

$50 OFF

Hydro Jet with a Camera Inspection

Must present this promo code to redeem this special: Jet50 Call Wolfschmidt today for more details!

$25 OFF

Any Service Repair

Now offering $25 off any service repair. Must present promo code to redeem special: Service25. Call Wolfschmidt for details.

$30 OFF

Veteran Discount

We proudly offer $30 off labor only to veterans. Must present promo code to redeem special: VET30 Call Wolfschmidt for details.

Free

On-Site Estimates

For Any Service! No dispatch cost unless you want us to do the job. Call today for more details!


Contact Our Team
Doing It Right Since 1936