Glassboro
Providing Excellent Service & Peace of Mind Since 1936

Glassboro HVAC and Plumbing
Keeping Your Plumbing, Heating and Cooling Systems Functioning Right Throughout All of South Jersey Since 1936
A plumbing, heating, or cooling problem can make your home uncomfortable. A leaky faucet, a malfunctioning furnace or an air conditioning unit on the fritz can quickly disrupt the tranquility of your space. When faced with plumbing, heating or cooling issues, it's crucial to entrust the repairs or installations to a professional. While some may be tempted to take matters into their own hands, the complexities of these systems often require the expertise of a trained specialist. A professional understands the intricacies of the systems, knows how to diagnose the problem accurately and has the tools and techniques to get your system running right.
To schedule a plumbing, heating or cooling service in Glassboro, please contact us at (856) 512-1832. Ask about our financing options!
At Wolfschmidt Plumbing, Heating & Cooling, we pride ourselves on being the go-to professionals in the industry. With years of experience, we have encountered various plumbing, heating and cooling challenges and consistently delivered exceptional results for our customers. Our team of skilled Glassboro plumbers and HVAC technicians is equipped with the latest tools and knowledge to tackle any issue you may face with your home's most vital systems. When you choose us, you can rest assured that your home is in good hands. We prioritize customer satisfaction and provide prompt, dependable and efficient service. Whether you need a plumbing repair, a heating system installation or an air conditioning tune-up, we will work diligently to restore your home's comfort swiftly and effectively.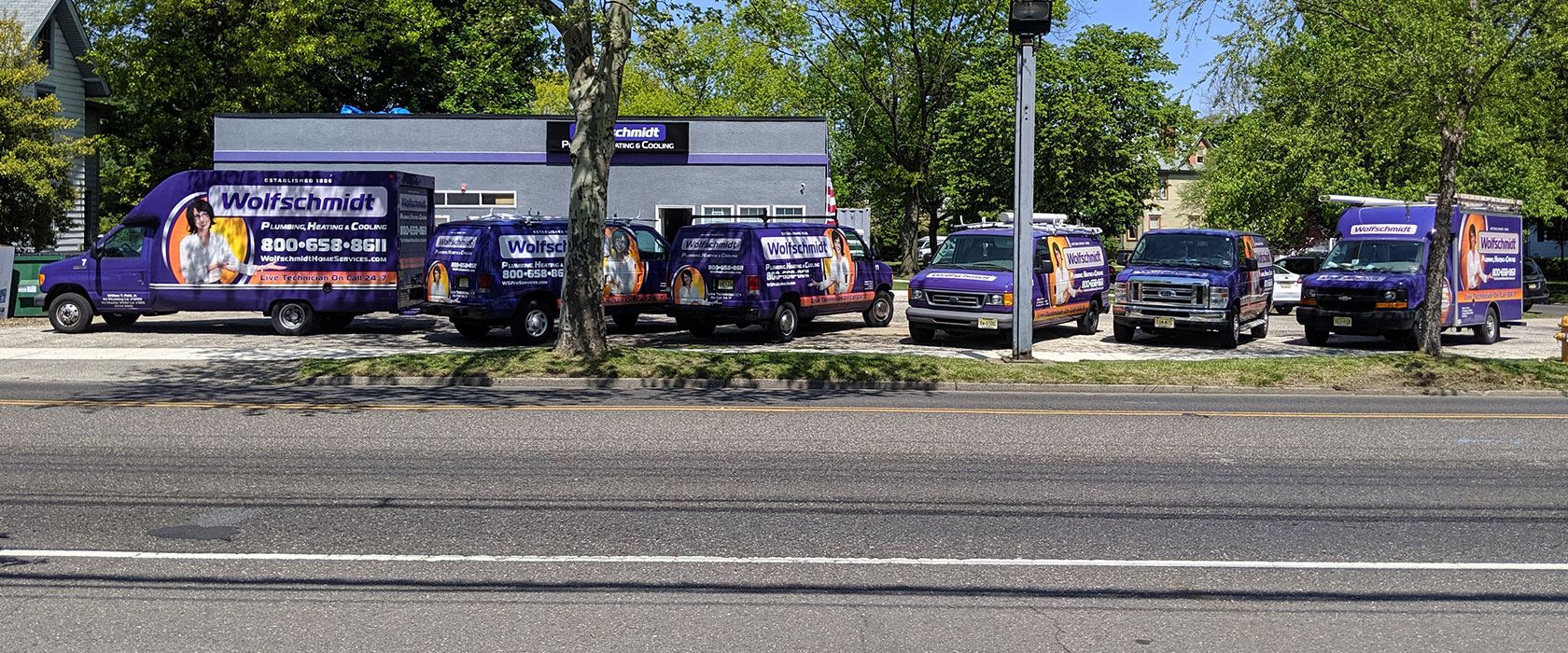 I want to thank you for your quick response to my heating issue. Graham is a top-notch technician and very personable. He remembered fixing our heater a few years back. He quickly identified the issue and fixed it in record time. Top-notch service!

I feel lucky to have you in town as a reliable company I can trust. Thanks again

I searched online and found Wolfschmidt available to help me. Within minutes of contacting them, I received a confirmation text AND a tracker of when a plumber would arrive. It really put my mind at ease.

Wolfschmidt Plumbing, Heating & Cooling is a great company to work with. They are very friendly, knowledgeable and take pride in their work. I highly recommend them!

I've used them many times and EVERY time has been a great experience. Expert service at a very good price. Won't call anyone else any more. Highly recommended!!

I told the gentleman about my issue, and he said he would have someone from the office call me to schedule. 30 minutes later I received a call and I was scheduled for that morning at 10:30. This was right in the middle of a heat wave, and I'm sure they were really busy.

They did an amazing job with the remodel of our bathroom. Jesse and Tim are wonderful, personable and reliable. I would recommend them to anyone!

Wow! We had such a great experience with this company! Dwayne was so friendly, professional and efficient! We will call again!

Been using Wolfschmidt for 10 years now for all of our construction jobs. They are top notch organization. Pat and Tom are amazing plumbers. I wont trust anyone else on my job sites. You will be so happy you called Wolfschmidt for all plumbing needs.

My mother in law had water filling her basement. Called Wolfcshmidt about 7:30 AM and they sent someone out right away. It was a pipe which they fixed, Never used them before but will use exclusively from now on. Highly recommend.
Need a Heating Problem Taken Care Of?
Wolfschmidt Plumbing, Heating & Cooling offers top-quality heating repairs, installations, and maintenance in Glassboro, NJ. We can install a new furnace or boiler unit whether your current one is broken or you want a more energy-efficient model. Our expert technicians handle heating repairs for issues like strange noises, warm air, no airflow or water leaks. We also offer maintenance and tune-ups to keep your furnace and/or boiler running smoothly year-round. Improve indoor air quality with our filter, duct and stand-alone purification systems. Trust us for all your heating needs, ensuring a comfortable and refreshing home.
$30 OFF

Veteran Discount

We proudly offer $30 off labor only to veterans. Must present promo code to redeem special: VET30 Call Wolfschmidt for details.

$25 OFF

Any Service Repair

Now offering $25 off any service repair. Must present promo code to redeem special: Service25. Call Wolfschmidt for details.

$699

Hydro Jet with Camera Inspection

Must present this promo code to redeem this special: Jet699 Call Wolfschmidt today for more details!

Free

On-Site Estimates

For Any Service! No dispatch cost unless you want us to do the job. Call today for more details!

$25 OFF

Drain Cleaning or Video Inspection

Now offering $25.00 off for Drain Cleaning or Video Inspection. Must present promo code to redeem special: DRAIN25. Call Wolfschmidt for details.

Need Your Plumbing System Fixed?
We provide a comprehensive range of bathroom and kitchen plumbing services in Glassboro.
Sewer and drain cleaning is our expertise. We tackle slow or clogged drains, removing foreign objects and debris from your plumbing lines. Our hydro jetting services offer a safe and effective method to clean pipes thoroughly.
We accurately locate plumbing problems with camera inspection, enabling tailored solutions without invasive procedures.
We also provide repairs, installations and maintenance services for water heaters. Additionally, we can assist with tankless water heater installation for improved energy efficiency.
Trust Wolfschmidt Plumbing, Heating & Cooling for reliable plumbing and HVAC services. Contact us at (856) 512-1832 today.

Contact Our Team
Doing It Right Since 1936