Backflow Prevention
Providing Excellent Service & Peace of Mind Since 1936

Cherry Hill Commercial Backflow Prevention
Serving Voorhees, Mount Laurel, Moorestown, Marlton, Medford and Surrounding Towns of South Jersey Since 1936
Every commercial property is required to have a backflow prevention system installed on the main water line in order to protect our municipal water supply from accidental contamination. When the pressure in your water lines exceeds the pressure coming from the water supply, water can flow backward into the supply, carrying whatever might be in your lines with it. That can cause some serious problems, so the law requires that all commercial properties are outfitted with a specialized device to prevent this from happening.
For Commercial customers we Test, Inspect and offer backflow prevention Certification for commercial buildings to prevent any problems that could arise with city water supply. We're fully licensed, EPA-certified and insured to diagnose and repair virtually any problem with your sewer or drain – and we stand behind our work with a satisfaction guarantee!"
At Wolfschmidt Plumbing, Heating & Cooling, we are the name to call for all of your backflow service needs. Offering a crew of highly-trained commercial plumbing experts, we can take care of whatever service your backflow preventer needs. Is your preventer not responding when triggered? We'll figure out the problem and repair it or even replace it entirely. When the time comes for your annual backflow test and inspection, we can carry out the service and report the results to the appropriate governing bodies so you remain compliant for another year. And we offer that same great service that business owners and managers just like yourself have come to rely on: friendly, fast, honest, and customized to what your business needs.
Backflow Repairs & Replacement
Has your device failed its most recent test? Do you see visual signs that your device is deficient or has a recent trigger caused it to seize up and stop working properly? There are lots of reasons to need to replace your backflow preventer, and the team at Wolfschmidt Plumbing, Heating & Cooling can carry out the job for you. We offer a full range of commercial backflow prevention installation and repair services that keep your water supply properly protected.
If your device failed its last inspection, we can conduct the necessary repairs to get it working again and then complete a re-test so your compliance can be reported to the local offices. Should you need a full replacement, we'll work with you to make the right choice for your property and then complete the job using the highest levels of craftsmanship for a more durable and better-functioning result.
Schedule an appointment for your business today by calling Wolfschmidt Plumbing, Heating & Cooling at (856) 512-1832.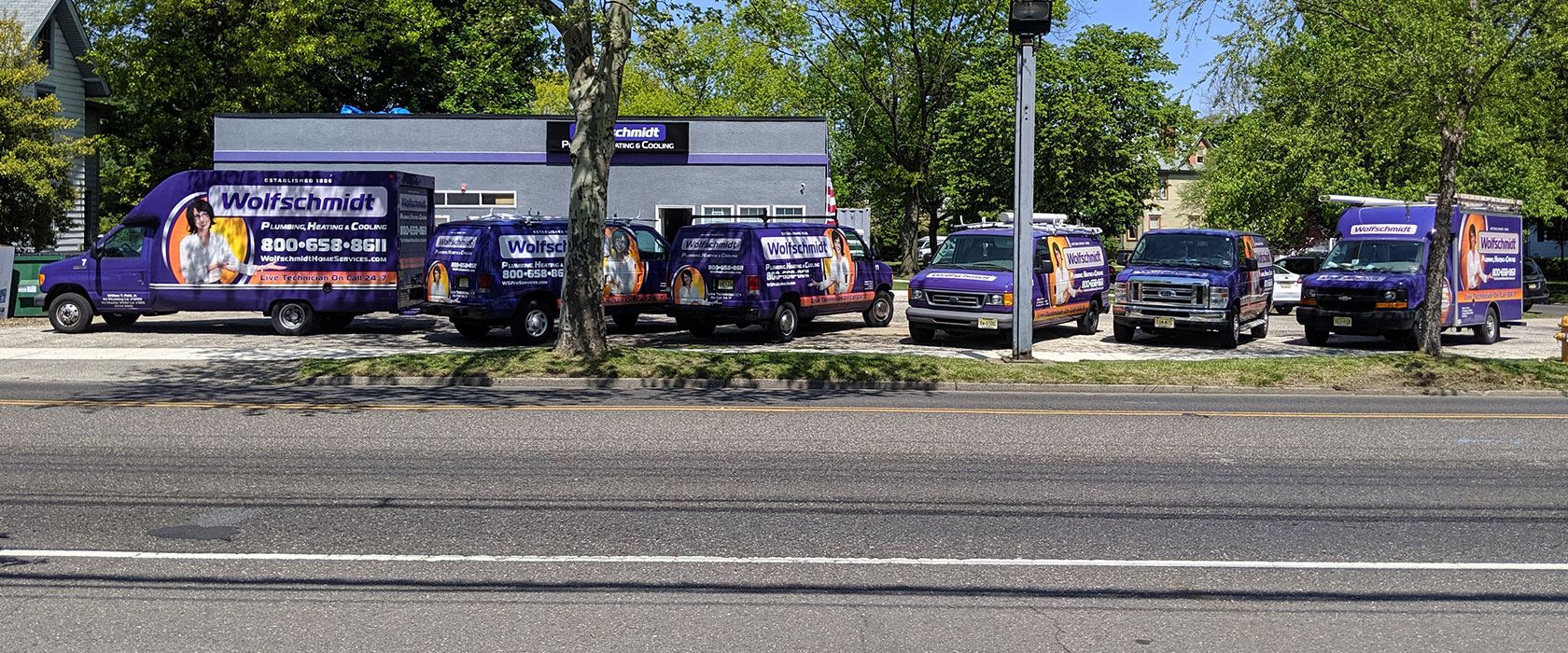 We are very happy with the service provided by your company. Our experience from when we contacted your company to schedule the appointments through the completion of the service was exceptional. Will definitely be using your company again as well as referring your company to others. Thank you.

I want to thank you for your quick response to my heating issue. Graham is a top-notch technician and very personable. He remembered fixing our heater a few years back. He quickly identified the issue and fixed it in record time. Top-notch service!

I feel lucky to have you in town as a reliable company I can trust. Thanks again

I searched online and found Wolfschmidt available to help me. Within minutes of contacting them, I received a confirmation text AND a tracker of when a plumber would arrive. It really put my mind at ease.

Wolfschmidt Plumbing, Heating & Cooling is a great company to work with. They are very friendly, knowledgeable and take pride in their work. I highly recommend them!

I've used them many times and EVERY time has been a great experience. Expert service at a very good price. Won't call anyone else any more. Highly recommended!!

I told the gentleman about my issue, and he said he would have someone from the office call me to schedule. 30 minutes later I received a call and I was scheduled for that morning at 10:30. This was right in the middle of a heat wave, and I'm sure they were really busy.

They did an amazing job with the remodel of our bathroom. Jesse and Tim are wonderful, personable and reliable. I would recommend them to anyone!

Wow! We had such a great experience with this company! Dwayne was so friendly, professional and efficient! We will call again!

Been using Wolfschmidt for 10 years now for all of our construction jobs. They are top notch organization. Pat and Tom are amazing plumbers. I wont trust anyone else on my job sites. You will be so happy you called Wolfschmidt for all plumbing needs.
Commercial Backflow Testing
For most businesses, the only time you will have to worry about your backflow prevention system is once a year when your inspection is due. By law, every business must have their preventer inspected annually with the due date being at the end of the month your last passed inspection was completed in. When your annual test is due, don't delay! Reach out to Wolfschmidt Plumbing, Heating & Cooling today and schedule your inspection as soon as possible. Schedules fill quickly, so make sure your business remains compliant and has plenty of time to rectify any issues that might emerge.
We offer testing for all types of backflow preventers, including:
Reduced pressure zone devices
Double check devices
Residual dual-check devices
Atmospheric vacuum breakers
Pressure vacuum breakers
A backflow test is generally a fairly straightforward service that can be completed in as little as a few hours, and generally requires little disruption of your day-to-day operations. However, there likely will be a short period of time where your inspector will have to shut your water off in order to simulate a backflow event and trigger your device.
For dependable local backflow prevention services, contact Wolfschmidt Plumbing, Heating & Cooling!
$25 OFF

Any Service Repair

Now offering $25 off any service repair. Must present promo code to redeem special: Service25. Call Wolfschmidt for details.

$25 OFF

Sump Pump Installation

Now offering $25 off any Sump Pump Installation. Must present promo code to redeem special: PUMP25. Call Wolfschmidt for details.

$25 OFF

New Toilet Installation

With the purchase of a new toilet Must present promo code to redeem special: TI25. Call Wolfschmidt for details.

$30 OFF

Veteran Discount

We proudly offer $30 off labor only to veterans. Must present promo code to redeem special: VET30 Call Wolfschmidt for details.

Free

On-Site Estimates

For Any Service! No dispatch cost unless you want us to do the job. Call today for more details!

$50 OFF

Hydro Jet with a Camera Inspection

Must present this promo code to redeem this special: Jet50 Call Wolfschmidt today for more details!

$25 OFF

Garbage Disposal Replacement

Now offering $25.00 off for Garbage Disposal Replacement. Must present promo code to redeem special: GD25. Call Wolfschmidt for details.

Serving Voorhees, Mount Laurel, Moorestown, Marlton, Medford and Surrounding Towns of South Jersey Since 1936
We're proud to be the local experts in all types of backflow prevention services. Schedule an appointment for your business today by calling Wolfschmidt Plumbing, Heating & Cooling at (856) 512-1832.

Contact Our Team
Doing It Right Since 1936